イベント託児システム(ならっこイベント)
In September 2010, we started to provide childcare services during various on-campus events, such as seminars, workshops, and symposiums to ensure that those with babies/children are able to participate in these events. Based on the numbers of babies/children to take care of during the events as well as the sizes of the events, users can choose between the following two types of services.
Two Types of Childcare Services During Events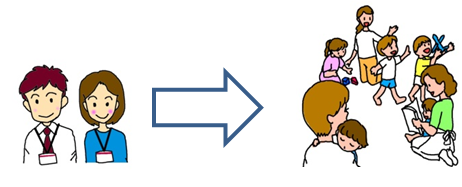 A sponsoring/coordinating organization of the event requests childcare supporters to provide a service. Multiple supporters take care of multiple children.
Individual-Based Childcare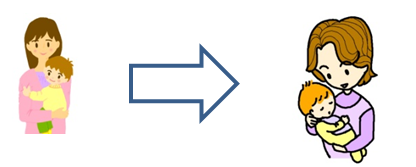 An individual participant of the event requests a childcare supporter to care for his/her child(ren) only. (The request needs to be made via the event sponsor/coordinator.)
Service Summary
Eligibilities
Events sponsored/coordinated by NWU faculty and staff, as well as those in which NWU facility is used
Ages of Children
 For group childcare, there is no regulation about the age range of the children to be taken care of.  Individual childcare is for babies/children who are 3 months-12 years old (6th graders).
Room
 "NARAKKO Room" is usually used (when the event takes place on campus
Hours
Hours 7:30 a.m. – 10:00 p.m. (including Saturdays/Sundays)
Fees
Group Childcare
When there are more than three supporters working together, at least one of them will be designated as a leader supporter.
Supporter     →1000 JPY/hour
Leader Supporter →1300 JPY/hour
Individual Childcare
9:00 – 18:00 Weekdays  →700 JPY/hour
Hours outside the above hours  →800 JPY/hour
NOTE: Childcare supporters' transportation expenses will also be covered by service users.
To organizers of on-campus events considering to offer childcare services to their participants
It is not uncommon for childcare services to be provided at academic conferences and symposiums where researchers get together. The availability of childcare services also enables people with babies and/or children to participate in seminars, etc. We provide childcare services during events sponsored/coordinated by NWU faculty, staff, etc. We adjust the service delivery to meet your unique needs, based on the numbers of children/babies to take care of, fee scales, cancellation policies etc.
You can make your even flyer more attractive by writing "childcare services available" on it.
Even if there is no event participant who needs the childcare service, and the sponsoring/coordinating organization ends up having to cancel the service, there is no cancellation fee until one or two days prior to the event.