子育て支援システムとは
Finding and maintaining one's optimal work-life balance is crucial not only for women researchers but also for everyone with jobs. Especially, those who work while raising children have to deal with a variety of issues related to balancing between their work and child rearing. NWU has a childcare support system to help them resolve these issues. The system has two dimensions: "NARAKKO Net" and "Childcare Services during Events"
How the Childcare Support System Works: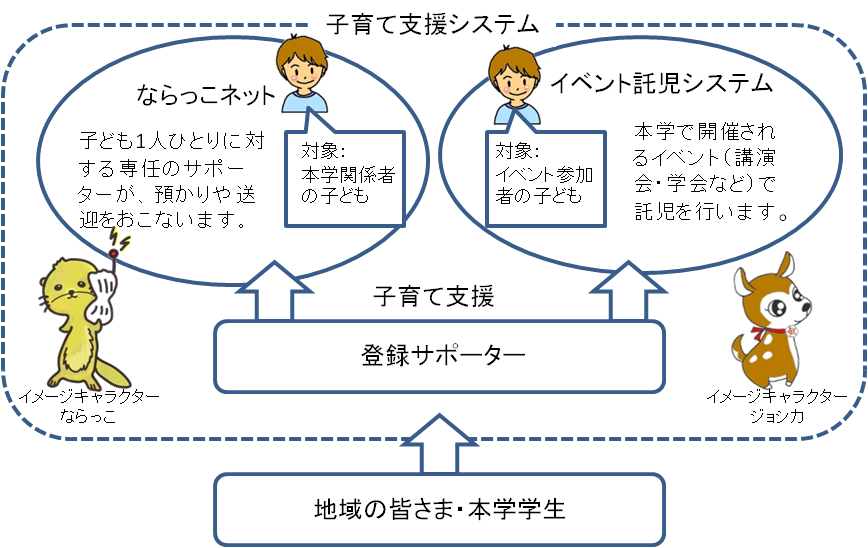 The system is built on the principle of "mutual assistance." Service users and providers are expected to grow together as people in their supportive interactions. NWU and its surrounding community also help each other, since NWU offers the community learning opportunities (such as expert seminars on a variety of topics that are open to the general public), and people in the community volunteer to become childcare supporters for children of NWU's faculty, staff, students, etc. Those people in the community and NWU students who understand and agree with the importance of the above-mentioned principle are providing the childcare services as registered childcare supporters.
Childcare Supporters Needed!
If you are interested in becoming a childcare supporter, we would like to hear from you! Please contact:
Office of Diversity in Research Environment
(in the NWU Organization for the Promotion of Gender Equality)
TEL&FAX: 0742-20-3344    e-mail: shien(a)cc.nara-wu.ac.jp
※ When sending emails, please change the above "(a)" to "@".
Service Summary
Eligibilities
NWU Faculty and Staff (including those belong to its attached schools and kindergarten), as well as NWU students
Ages of Children
from 3 months to 12 years old (6th graders)
Services
Providing temporary care for children, including picking them up and dropping them off at places asked by their parents, etc. (and approved by our staff)
Support Hours
7:30~22:00(including weekends and national holidays)
Fees
● 9:00~18:00 on weekdays → 700 JPY/hour
● Hours outside the above hours (early morning, late night, Saturdays & Sundays,etc.) → 800 JPY/hour
NOTE: Service users are responsible for covering their childcare supporters' transportation expenses