ワークライフバランス支援相談室(旧 母性支援相談室)
The Maternity Support Counseling Room (opened in 2006) made a fresh start as the Work-Life Balance Counseling Room in April 2016.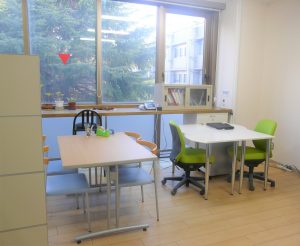 In the Counseling Room, domestic/international students, faculty, and staff are all welcome to consult with our professional counselors about a wide range of issues.  →(Click here for our counselors' profiles.)
There is a baby bed in the Counseling Room, and you are welcome to bring your baby/child with you.
Feel free to come, and you are welcome to bring issues as follows.
Mental and physical health problems throughout your life span (e.g., menstrual irregularities, menstrual pain)
Pregnancy, childbirth, child rearing, family relationships
Nursery care
Research and living environments
Health insurance card is not necessary.
If we think that you would benefit from more frequent and/or longer term care, we will help connect you to appropriate professionals off-campus. We will ensure that your confidentiality will be protected.
For questions about the location of the room, making appointments, etc. please see "Making Appointments with Counselors" and "Access".
→「 Making Appointments with Counselors」
→「Access」
We also have a small lending library.
⇒Click here for the list of books.(in Japanese only)
♪ Announcement for 2019